Drivetrain Battles is a sub-event in Drift Spirits.
In Drivetrain battles you will go up against cars that have the same drivetrain you have chosen to go up against. You can only race cars that are the same drivetrain as the event you are choosing to do. example, you cant go up against a AWD event car with a FR,
However, you are still able to do FR battle type with MR or RR drivetrains.
This is another way you can get Rims outside of events.
How to Play
You have to clear AREA 2 before proceed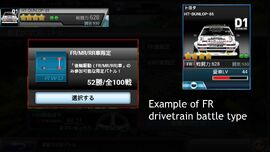 Select any car with preferred drivetrain to start with. The race remains the same as Manufacturer Battle ones but this time only limited for specific drivetrains.
There are 100 rivals in total per category. Note that the gas usage will be doubled for every 10 races taken, the rule remains the same goes to Manufacturer Battle
Rewards list such as
| Race of | Reward |
| --- | --- |
| 1-4; 6-9 and each subsequent of 10 races | Nitrous Tanks |
| 5th race after each subsequent of 10 races | S Gas Tanks |
| 10th and subsequent of 10 races | Car Ticket, Parts Ticket, Medal, Rims (on Final) |
Completion Reward
Rewards available after completing one of category provided:
| Drivetrain | Reward |
| --- | --- |
| Front Wheel Drive (FF) | RAYS Black FLEET F2B diamond cut side Grayish Silver  |
| Rear Wheel Drive (FR,MR,RR) | YOKOHAMA ADVAN Racing silver |
| All Wheel Drive (AWD) | RAYS G-Games 77NTL brightning silver |